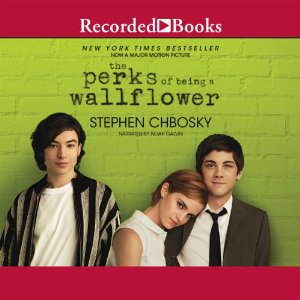 The Perks of Being a Wallflower is a wonderful epistolary coming of age story. It's about a 15 year old kid name Charlie and his first year of high school back in the early 90's. It's told completely via letters to an anonymous recipient. Charlie is an unusual kid. He's very intelligent but he's also somewhat of an outcast with deep emotional issues. He practically cries about everything and is generally a weird guy. The book starts with the suicide of his best and only good friend. One day he meets two seniors named Patrick and Sam and they not only bond but expose Charlie to new experiences and ultimately sets him on a path that changes his life.
Initially I thought this book was going to be another one of those "for hipsters by hipsters" type of books. It has all of the usual cliche elements including drugs, sex, intense love, alienation, and underground music experts. The longer I listened, the deeper I got into it. Later in the book Charlie makes a disastrous decision and I almost literally face-palmed because I was invested by that point and I knew that he was going to suffer for his choice even if he didn't. This was not only due to the excellent performance by Noah Galvin (narrator) but also because it started to bring me back to memories of my own experiences in high school and college.
I started to remember family and friends. I remembered the pressures of school (both academically and socially). I remember being free and feeling like the future was limitless. I even remember my first relationships and feeling hopelessly in love. My first serious girlfriend exposed me to The Smiths via her older brother's music collection. Charlie falls in love with the song Asleep by The Smiths and mentions it repeatedly and every time it evoked old feelings that I associate with the my experiences when I first heard their music. This could be seen as a cheap way to emotionally manipulate the reader but I feel like even without it, it's inevitable to have indirect emotional responses triggered when you are reading about (or listening to) someone having similar experiences.
I also loved how Charlie grew. By the end he is almost a completely different person. The Perks of Being a Wallflower was a bittersweet experience. If you have been over-hyped about how great it is then you probably wont enjoy it as much me. I believe that you will still like it though. It's not the best thing ever but it is worth trying. I was slow to warm up to it at first but nearly got through the whole 6 hours and 23 minutes in one day, only stopping to get some sleep. I even teared up at the end. I don't think I'll watch the movie. I'm good stopping here.